0 SUGAR, 0 CALORE, ZERO GLUTEN AND MORE!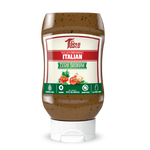 Italian Salad Dressing
Regular Price

$8.99

Sale Price

$8.99

Regular Price

$9.99

Unit Price

per
An amazing combination of spices with Parmesan cheese and tomato, which will add much more flavor to your meals. Made with extra virgin olive oil, which is rich in monounsaturated fatty acids, the "good fats", which lower bad cholesterol and increase good cholesterol, and contain powerful antioxidants that prevent the action of free radicals that cause the accumulation of fat in blood vessels. And without any addition of salt, this is 0% sodium, you can use it without worry!
Consumption suggestion
Mrs Taste can be used in the preparation of any meal, snacks and salads.
Regular Price

$8.99
Sale Price

$8.99

Regular Price

$9.99
Unit Price

per
Regular Price

$8.99
Sale Price

$8.99

Regular Price

$9.99
Unit Price

per
Regular Price

$8.99
Sale Price

$8.99

Regular Price

$9.99
Unit Price

per
Regular Price

$8.99
Sale Price

$8.99

Regular Price

$9.99
Unit Price

per
Regular Price

$8.99
Sale Price

$8.99

Regular Price

$9.99
Unit Price

per
Regular Price

$8.99
Sale Price

$8.99

Regular Price

$9.99
Unit Price

per
Regular Price

$8.99
Sale Price

$8.99

Regular Price

$9.99
Unit Price

per
Regular Price

$8.99
Sale Price

$8.99

Regular Price

$9.99
Unit Price

per
Regular Price

$8.99
Sale Price

$8.99

Regular Price

$9.99
Unit Price

per
Regular Price

$8.99
Sale Price

$8.99

Regular Price

$9.99
Unit Price

per
Regular Price

$8.99
Sale Price

$8.99

Regular Price

$9.99
Unit Price

per
Regular Price

$8.99
Sale Price

$8.99

Regular Price

$9.99
Unit Price

per