0 SUGAR, 0 CALORE, ZERO GLUTEN AND MORE!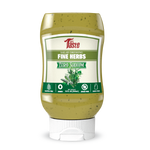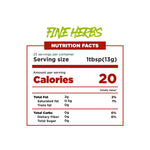 Fines Herbs Salad Dressing
Regular Price

$8.99

Sale Price

$8.99

Regular Price

$9.99

Unit Price

per
Want to make your salads taste amazing?
Try Mrs Taste Fine Herbs salad dressing.
Mrs Taste salad dressing will add flavor to your diet and guarantee delicious, more tasty and nutritious dishes.
It is indicated for any type of person: people who need a diet restricted in sodium, people physically active, people who seek a healthy life, and also, people with certain health weaknesses such as high blood pressure, cardiovascular diseases, kidney diseases, among others , which require a reduction in sodium consumption.
It has 0% sodium, zero calories and its formula is free of preservatives.
Being healthy has never been so easy!
Consumption Suggestion:
Add without moderation to your favorite snacks. Store in a cool, dry place, after opening store in refrigerator. Shake before using.
Regular Price

$8.99
Sale Price

$8.99

Regular Price

$9.99
Unit Price

per
Regular Price

$8.99
Sale Price

$8.99

Regular Price

$9.99
Unit Price

per
Regular Price

$8.99
Sale Price

$8.99

Regular Price

$9.99
Unit Price

per
Regular Price

$8.99
Sale Price

$8.99

Regular Price

$9.99
Unit Price

per
Regular Price

$8.99
Sale Price

$8.99

Regular Price

$9.99
Unit Price

per
Regular Price

$8.99
Sale Price

$8.99

Regular Price

$9.99
Unit Price

per
Regular Price

$8.99
Sale Price

$8.99

Regular Price

$9.99
Unit Price

per
Regular Price

$8.99
Sale Price

$8.99

Regular Price

$9.99
Unit Price

per
Regular Price

$8.99
Sale Price

$8.99

Regular Price

$9.99
Unit Price

per
Regular Price

$8.99
Sale Price

$8.99

Regular Price

$9.99
Unit Price

per
Regular Price

$8.99
Sale Price

$8.99

Regular Price

$9.99
Unit Price

per
Regular Price

$8.99
Sale Price

$8.99

Regular Price

$9.99
Unit Price

per