0 SUGAR, 0 CALORE, ZERO GLUTEN AND MORE!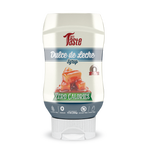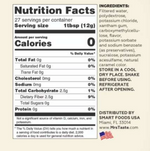 Dulce De Leche
Regular Price

$8.99

Sale Price

$8.99

Regular Price

$9.99

Unit Price

per
Are you that kind of person who does not live without dessert? Then you'll love this Mst Taste product!
The traditional and absolutely delicious Argentinean DULCE DE LECHE, is now in our healthy version of syrup! All flavor of dulce de leche, with zero sugar, zero calories and zero sodium, letting you taste this wonder without worries.
Like all other syrups, it is also a source of fiber, that is, in addition to being able to give a lot of flavor to desserts, it also brings many benefits with its dietary fiber.
Consumption Suggestion
Add without moderation to your favorite snacks. Store in a cool, dry place, after opening store in refrigerator. Shake before using.
Regular Price

$8.99
Sale Price

$8.99

Regular Price

$9.99
Unit Price

per
Regular Price

$8.99
Sale Price

$8.99

Regular Price

$9.99
Unit Price

per
Regular Price

$8.99
Sale Price

$8.99

Regular Price

$9.99
Unit Price

per
Regular Price

$8.99
Sale Price

$8.99

Regular Price

$9.99
Unit Price

per
Regular Price

$8.99
Sale Price

$8.99

Regular Price

$9.99
Unit Price

per
Regular Price

$8.99
Sale Price

$8.99

Regular Price

$9.99
Unit Price

per
Regular Price

$8.99
Sale Price

$8.99

Regular Price

$9.99
Unit Price

per
Regular Price

$8.99
Sale Price

$8.99

Regular Price

$9.99
Unit Price

per
Regular Price

$8.99
Sale Price

$8.99

Regular Price

$9.99
Unit Price

per
Regular Price

$8.99
Sale Price

$8.99

Regular Price

$9.99
Unit Price

per
Regular Price

$8.99
Sale Price

$8.99

Regular Price

$9.99
Unit Price

per
Regular Price

$8.99
Sale Price

$8.99

Regular Price

$9.99
Unit Price

per