0 SUGAR, 0 CALORE, ZERO GLUTEN AND MORE!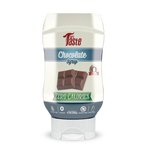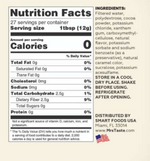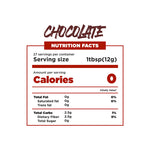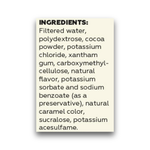 Chocolate
Regular Price

$8.99

Sale Price

$8.99

Regular Price

$9.99

Unit Price

per
Who doesn't love chocolate?
Now you can enjoy the delicious taste of chocolate in an irresistible syrup that can be added to sweets, smoothies, shakes, waffles, ice cream and wherever your imagination leaves, all with ZERO sugar, ZERO calories and ZERO sodium. In addition to being a SOURCE OF FIBERS, which contribute to the proper functioning of the intestines, providing the feeling of satiety helping with weight, glycemia and cholesterol control.
The irresistible taste of chocolate without guilt!
Consumption Suggestion:
Add without moderation to your favorite snacks. Store in a cool, dry place, after opening store in refrigerator. Shake before using.
Regular Price

$8.99
Sale Price

$8.99

Regular Price

$9.99
Unit Price

per
Regular Price

$8.99
Sale Price

$8.99

Regular Price

$9.99
Unit Price

per
Regular Price

$8.99
Sale Price

$8.99

Regular Price

$9.99
Unit Price

per
Regular Price

$8.99
Sale Price

$8.99

Regular Price

$9.99
Unit Price

per
Regular Price

$8.99
Sale Price

$8.99

Regular Price

$9.99
Unit Price

per
Regular Price

$8.99
Sale Price

$8.99

Regular Price

$9.99
Unit Price

per
Regular Price

$8.99
Sale Price

$8.99

Regular Price

$9.99
Unit Price

per
Regular Price

$8.99
Sale Price

$8.99

Regular Price

$9.99
Unit Price

per
Regular Price

$8.99
Sale Price

$8.99

Regular Price

$9.99
Unit Price

per
Regular Price

$8.99
Sale Price

$8.99

Regular Price

$9.99
Unit Price

per
Regular Price

$8.99
Sale Price

$8.99

Regular Price

$9.99
Unit Price

per
Regular Price

$8.99
Sale Price

$8.99

Regular Price

$9.99
Unit Price

per