0 SUGAR, 0 CALORE, ZERO GLUTEN AND MORE!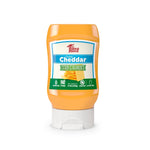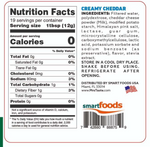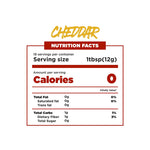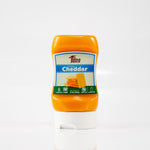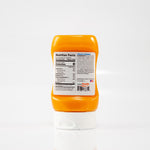 Cheddar
Regular Price

$8.99

Sale Price

$8.99

Regular Price

$9.99

Unit Price

per
Are you one of those who love cheese, but don't give up on healthy eating?
Then Mrs Taste cream cheddar was made especially for you.
A unique and totally innovative product on the market, perfect to replace ordinary cheese. It contains himalayas and its minerals, which brings countless health benefits: helps in vascular and respiratory health, promoting pH balance, reducing signs of aging, increasing libido, contributing to healthy sleep, strengthening bones, increasing hydration, among others. Experience the full flavor of the cheese, with ZERO calories, ZERO fats and with a sodium content below that of an ordinary cheese.
Size-8oz 
Consumption Suggestion:
Add without moderation to your favorite snacks. Store in a cool, dry place, after opening store in refrigerator. Shake before using.
Ingredients: Water, polydextrose, cheddar cheese, modified potato starch, pink himalayan salt, corn fiber, lactase, guar gum thickener, acid acetic acid, preservatives potassium sorbate and sodium benzoate, flavoring and natural stevia sweetener. Selected cheddar cheese not included in fats. GLUTEN-FREE. DOES NOT CONTAIN LACTOSE. ALLERGIC: CONTAINS MILK DERIVATIVES.
Regular Price

$8.99
Sale Price

$8.99

Regular Price

$9.99
Unit Price

per
Regular Price

$8.99
Sale Price

$8.99

Regular Price

$9.99
Unit Price

per
Regular Price

$8.99
Sale Price

$8.99

Regular Price

$9.99
Unit Price

per
Regular Price

$8.99
Sale Price

$8.99

Regular Price

$9.99
Unit Price

per
Regular Price

$8.99
Sale Price

$8.99

Regular Price

$9.99
Unit Price

per
Regular Price

$8.99
Sale Price

$8.99

Regular Price

$9.99
Unit Price

per
Regular Price

$8.99
Sale Price

$8.99

Regular Price

$9.99
Unit Price

per
Regular Price

$8.99
Sale Price

$8.99

Regular Price

$9.99
Unit Price

per
Regular Price

$8.99
Sale Price

$8.99

Regular Price

$9.99
Unit Price

per
Regular Price

$8.99
Sale Price

$8.99

Regular Price

$9.99
Unit Price

per
Regular Price

$8.99
Sale Price

$8.99

Regular Price

$9.99
Unit Price

per
Regular Price

$8.99
Sale Price

$8.99

Regular Price

$9.99
Unit Price

per