0 SUGAR, 0 CALORE, ZERO GLUTEN AND MORE!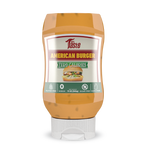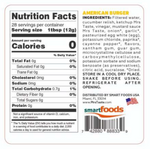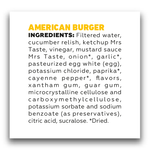 American Burger
Regular Price

$8.99

Sale Price

$8.99

Regular Price

$9.99

Unit Price

per
Specially made to add a touch of flavor to your snacks!
With all the quality and main benefits that only Mrs Taste offers, American Burger is a delicious sauce, with zero calories, zero sugar and zero sodium.
One of the ingredients that makes this sauce so special is cucumber, which has levels of sterols in its composition that help to lower cholesterol levels. In addition, it is an excellent food to be consumed by diabetics, as it has a very low glycemic index and still has a hormone, which is required by the beta cells of the pancreas, which synthesize insulin.
Consumption suggestion
Add to taste in sandwiches, salads, sausages, hot dogs, meals or appetizers.
Regular Price

$8.99
Sale Price

$8.99

Regular Price

$9.99
Unit Price

per
Regular Price

$8.99
Sale Price

$8.99

Regular Price

$9.99
Unit Price

per
Regular Price

$8.99
Sale Price

$8.99

Regular Price

$9.99
Unit Price

per
Regular Price

$8.99
Sale Price

$8.99

Regular Price

$9.99
Unit Price

per
Regular Price

$8.99
Sale Price

$8.99

Regular Price

$9.99
Unit Price

per
Regular Price

$8.99
Sale Price

$8.99

Regular Price

$9.99
Unit Price

per
Regular Price

$8.99
Sale Price

$8.99

Regular Price

$9.99
Unit Price

per
Regular Price

$8.99
Sale Price

$8.99

Regular Price

$9.99
Unit Price

per
Regular Price

$8.99
Sale Price

$8.99

Regular Price

$9.99
Unit Price

per
Regular Price

$8.99
Sale Price

$8.99

Regular Price

$9.99
Unit Price

per
Regular Price

$8.99
Sale Price

$8.99

Regular Price

$9.99
Unit Price

per
Regular Price

$8.99
Sale Price

$8.99

Regular Price

$9.99
Unit Price

per